The Summer holidays started with our annual pilgrimage to the Isles of Scilly, brilliant weather, superb food and some serious dinghy sailing lessons for Jake.
The 10th August saw us back in the North, Carolyn had to return to work leaving us boys a several clear weeks to sail North, heading for the Farne…again.
We left Brough on the evening tide of the 10th August to slip into Hull and make a dash for Brid the following day. The morning brought a cloudy, windy day, with variable force 4/5 forecast, we locked out about 8am and headed down river, under power, with the tide. It was grey, choppy and cold. MUTINEER was ahead of us and Mike was sending us live weather and sea reports by SMS. "A bit blowy", "It's lumpy but we're going anyway" came back as we bounced our way into the wind and sea past Immingham. We decided to bail out into Grimsby and await better conditions, arriving at 1110, too late for free-flow but in time for an expensive lock-in.
The next day saw worse weather blow in and we spent a less than exciting day in Grimsby. We met up with VJ's son and later Bill on HJARGA came in looking very wet and complaining about the weather and the sea.
The next morning was much better, sunshine and W4. We left at 0855, slipped passed Spurn, under power, before 10am, reached SE Chequer at 1030, set sail and headed North. We were off. At 1230 we were elated to pass within a cable of MUTINEER returning to the Humber from Brid and exchanged greetings by SMS. A fine sail North along a familiar route led us to anchor outside Brid at 1800. When we slipped into the harbour an hour or so later we were overjoyed to see Steve and Mike in their Seamaster SPRINGTIME standing by the visitors pontoon waiting to take our lines.
The next day was bright and windy, SW 4/5 occ 6, then variable/W 3/4 later.
We agreed to meet up with SPRINGTIME in Whitby and left Brid together at 0845.
A sparkling sail North around Flambrough, saw Scarborough abeam at 1330 and the "variable/W later" part of the earlier forecast proved accurate. We had been chasing SPRINGTIME all day, gaining on them and then falling back as Steve trimmed his sails. Jake and I watched and learned and gradually SANUTI's larger sail area drew us closer and closer. Then the wind varied to a Southerly, and both boats began to run. Our big genoa, which we had started to trim properly for the first time following Steve's example lost its shape as it fell behind the main. Then we were well and truly stuffed as we saw SPRINGTIME set a Spinnaker and pull ahead as Scarborough slipped astern. It was at this point that Jake reminded me that we had another foresail and that I had been harping on about how we might try out a trade wind rig. I wasn't too keen on this, but with Jake on the wheel I scrambled forward slipped the luff tape into the second slot in the foil and hoisted this old foresail using the spinnaker halyard. I was expecting flapping chaos, however, once the main was down and the new sail trimmed we were both impressed.
<![if !vml]>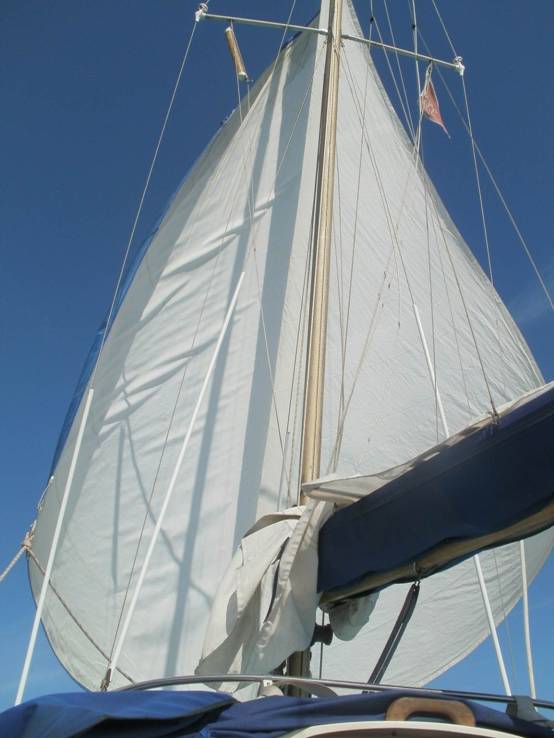 <![endif]>
Trade winds?
SANUTI felt steady, was running about 5 knots with a slow yaw from side to side. Once it became familiar it was comfortable and efficient without the constant fear of a gybe when goose-winging in a swell.
<![if !vml]>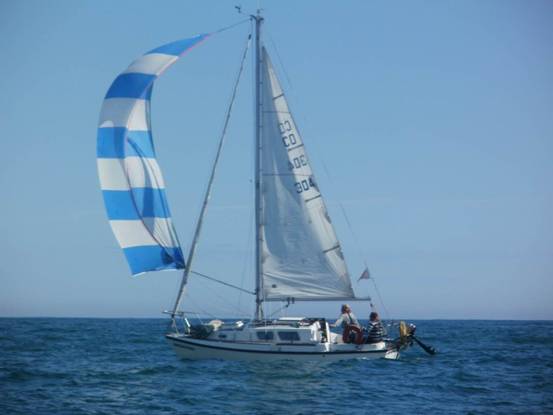 <![endif]>
Springtime pulls ahead!
SPRINGTIME still pulled ahead and was out of sight by the time we passed the Whitby Rocks buoy about 5pm.
<![if !vml]>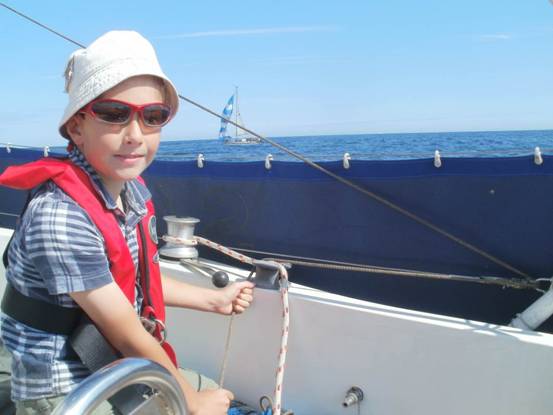 <![endif]>
Trim that sail!
Whitby is home from home having been berthed here some years ago. We took a day off to collect fossils on the South beach at low tide and to visit Trenchers for some food that didn't come out a tin.
Friday 16th brought clear skies and a steady SW4/5. We took the first bridge at 1005 and headed North, with SPRINGTIME following later, planning on reaching Hartlepool about 5pm. Which is exactly what we did, a steady reach in a steady wind with the autopilot doing the work and Jake on watch most of the time.
<![if !vml]>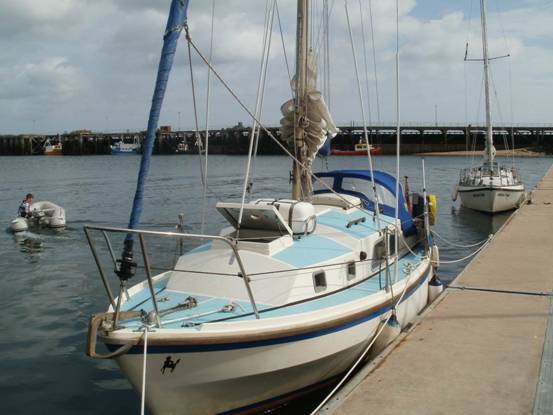 <![endif]>
The fleet in Blyth
This is the farthest North that SANUTI had been. Sunday 18th saw us heading North into new territory, heading for Sunderland. A steady westerly pushed us around the Heugh,. The wind was strong and sea lumpy but a few days at sea had lifted our confidence in our own abilities and that of the boat. A smart sail North for four hours with SPRINGTIME abreast much of the way saw us picking out the lighthouses on the two massive curved piers. The red and white Roker lighthouse is on the North pier and SPRINGTIME led our tiny fleet in. A French yacht had anchored in the outer harbour well away from the channel, and we considered following their example, there is plenty of space. However we continued up the Wear passing close by a number of large coasters looking for the marina which we knew was to starboard. It appears suddenly behind a small pier and needs care to avoid being swept past by the tide. Sunderland is lovely marina set in a deep ravine sheltered from the weather on all sides. The staff were friendly and on duty 24 hours, the facilities excellent and the town a short walk over a magnificent bridge. Steve decided he could find a good pub for supper, his navigation ability on land was not as good as that at sea. However he found a strange establishment on the front at Roker, which served excellent bar meals and was clearly going to be a fine place for music and drinking later in the evening. Jake and I left them to it after supper and the fact that they did not appear again until well into the following afternoon suggested we were right!
<![if !vml]>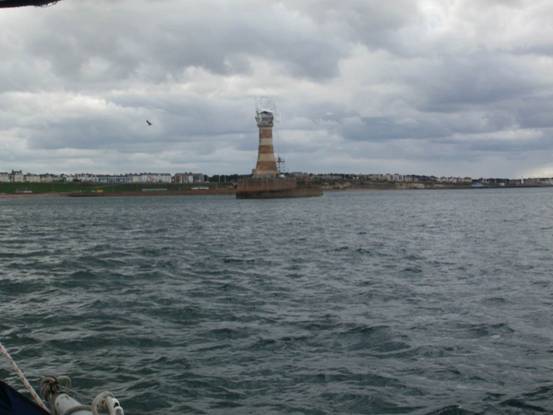 <![endif]>
The Roker lighthouse
We took a day out to explore Sunderland, it is an interesting town, with fine architecture and good range of shops. Jake soon found a branch of Maplin and spent his pocket money on something called a laser crab…the sort of crab you find in a disco not in a pot apparently.

High water had now slipped to about 3pm, our next port of call was to be Blyth and this was only some 14 miles or so North, 4 or 5 hours sailing should get us there well before dark. We left at 1455 and were soon bowling along in a gusty SW5. We passed the magnificent Souter light and could see the Tyne ahead and pick out Blyth in the distance. The wind grew stronger and sea heavier. SANUTI was hard pressed and getting wet. We turned head to wind to put two reefs in the main and rolled up half the genoa. When we paid off into the wind again she much more secure and moved faster through the sea. SPRINGTIME was suffering, we could see Steve was having the spill wind and could not get his sails trimmed. We saw him up on the foredeck struggling with something and later found out that he had a rigging problem preventing him from reefing.
The wind and sea kept on build and we were pleased to see Blyth's long, open arms welcoming us in. Our feelings were mixed as we had been following a mayday on VHF concerning a small open boat out in the weather we were about to escape from. We all felt it unwise for us to join in the search in view of the weather and never found out how the story resolved.
Blyth is a strange place. The marina is big and secure. The port is commercial and interesting, the locals friendly. The House Yacht is the bee's knees! A man could arrive here and stay forever in the clutches of the RNYC bar, not to mention the bar staff. The main bar is in the fo'c'sle. Jake was very impressed, he lives in SANUTI'S fo'c'sle and this was home from home for him…just with better seating and a constant supply of coke and crisps…heaven.
I had to decide what to do next. We would like to run further North to the Farne but although it was a short distance and easily done in two days. At least one day there and two more back makes 5 days and that would put us under pressure on our return South. This was to be our Northern limit this year. Jake and I resolved to visit the ports and harbours we had passed on the way North, which meant visiting the Tyne, Seaham, Runswick and Scarbrough. A couple of weeks of fine sailing to go…nothing to be down hearted about other than leaving our sailing partners as they were determined to press on North. We were pleased to receive regular progress reports over the next few days from the Kettle and Holy Island.
At 1130 on Tuesday 20th we left Blyth and started our run South. We were now departing near low water to use the floods. We had enjoyed sailing in company and being left to our own devices again took a little getting used to. Keeping to our plan of visiting ports we had passed when coming North our next call was a short hop into the Tyne. This was done under power with a light wind on the nose, and we passed through the pier heads at 1400. We decided to call into Royal Quays Marina and motored up river to find the lock. We found ourselves berthed next to DOUBLE PLUSH, however she was unmanned awaiting crew to bring her back to Brough. Royal Quays is a fine marina with excellent facilties and we took the opportunity to do some much needed laundry. Later in the afternoon we walked past the site of the famous Smith's Dock in North Shields where the corvettes immortalised in the Cruel Sea were designed. The yard is now gone with the dry dock left to become a water feature in some new office development.
Jake had to finish his homework work here, there is no escape…find the five numbers between 1 and 100 which have 12 factors…it took a while!
The following day we set sail at 1045 for Seaham. A motor sail in a light, variable winds arriving at 1440. A small but fine marina! This is a recent development, the lock is automatic and the facilities excellent, though the town seems to be struggling to find a reason to still exist with the loss of the local mines. The steep walls of the marina are cut from the natural cliff and host a flock of kittiwakes. This was the first time I had heard their call and understood the reason for their name!
On Wednesday we awoke to a fine, flat calm morning. Not a breath of wind and a glassy sea. We left towards Whitby at 0645, under power, with Jake taking the helm on and off all day. A large school of dolphins passed by in Tees Bay and by 1330 we had decided to stop off at Runswick Bay for a run ashore in the dinghy. More fossils were added to Jake's collection and on leaving the beach we spotted a very large Lion's mane jelly over a foot across at the head and with tendrils some 3 feet long. Thoughts of swimming from the stern of SANUTI were quickly forgotten. We considered spending the night at anchor but a strong on-shore wind was developing so we sailed over the Whitby, dodging the WYC race boats in the bay.
We arrived much too late to for the last bridge and found the lower harbour packed. The race boats had filled the WYC pontoon three deep and Reaper, an old herring smack, was against the wall above the fish dock. Our old berth near the Brewery Steps was dry, and were shooed away from the fish dock itself so rafted against SASANQUA, which had moored to the waiting pontoon. After much debate about tidal ranges and early departures we swapped places and settled in for the night.
The following morning SASANQUA has gone and we took the first bridge into the marina, found a berth and took a day off.
Saturday 24th August dawned grey and still, we planned to head down to Scarborough to cheer-on some HYC club boats in the regatta races ad to meet up with Carolyn. We slipped into the lower harbour by the last bridge at 0841, tied up on the waiting pontoon and waited for low water. The air was thick with mist but we could see the Whitby Rocks buoy and left for Scarborough at 1145. As soon as we turned South the mist thickened, and an hour later we were motoring in thick fog plotting our position every 15 minutes. Several fishing boats and two yachts passed by in the gloom and we were starting to relax when a deep, distant, foghorn was heard astern. The deeper the note, the bigger the vessel. A few minutes later it sounded again, nearer this time, then again, now clearly astern and between us and the land. This was a surprise, we were close in and have never come across a large vessel so near to land around here. My concern was obvious to Jake who disappeared below, despite my requests for him to keep look out. A few minutes later he was in the cockpit, iPad in hand giving me the name, speed, course and cargo of the vessel in question. He had used his iPad's 3G connection to open a web site showing AIS data in the North Sea. The chart showed it moving past to starboard and a few minutes later it came into view on a parallel course about a cable away. I think it's time I caught up with this technology too!
We continued to navigate by DR and GPS and soon felt the sea settle as we slipped into Scarborough bay still unable to see anything. I was surprised, but grateful, to hear a "foghorn", it was not the regular repeating pattern that you expect of a foghorn but we followed it, all the same, and soon the light house and club house resolved out of the fog. Once settled into a visitor's berth we determined that the horn we had heard was, in fact, finishing or abandoning a regatta race.
Carolyn came to visit us the next day and we watched our Captain and other club boats make decent efforts from the best seats in town, in the yacht club bar.
The next few days saw us making our way via Brid and Hull back to Brough. No excitement except for a miserable couple of hours banging our way from the Spurn light to Spurn Head. I have never enjoyed this run at low water.
A great Summer at sea, and the Farne are still there!

Simon & Jake Howarth
Sanuti
Summer 2013